It was a beautiful, warm, August afternoon as I stood on a gentle slope in West Ridge Memorial Park waving goodbye to the family members as they exited in their vehicles. I had stood in that particular spot before with this family as we have laid several family members to rest over the years. I gazed up at the cloudless sky where we had just released 50 balloons, symbolizing our letting go and our loved one's soul returning to its creator, and thought, "What a peaceful day!"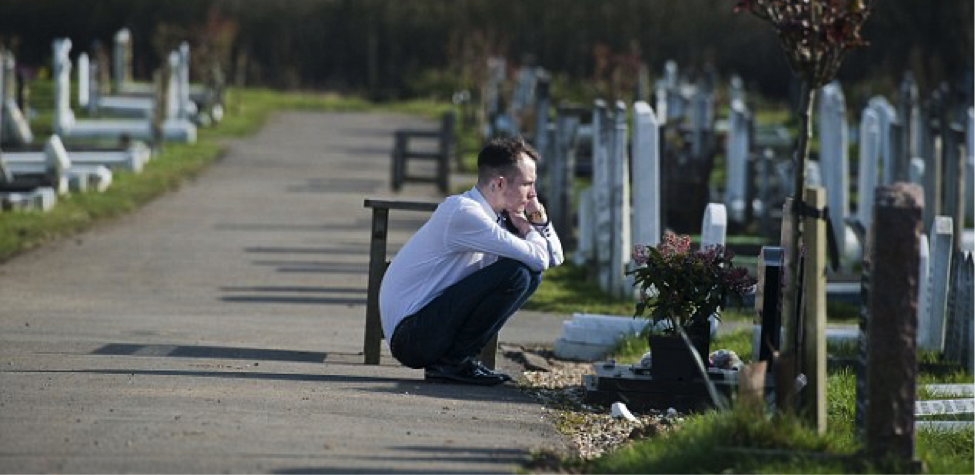 I waved at the cemetery maintenance crew to let them know I was ready for them and they began making their way across the small bridge and roadways towards me. I mistakenly thought I was the only one in the vicinity and was startled when I suddenly heard someone sobbing uncontrollably about 15 feet behind me. I quickly turned to see a gentleman around 50 years of age kneeling beside a bronze grave marker tearing at the grass around the edges with his hands. He was clearly overcome with grief as the crying continued unabated. I walked over to him, knelt down on the grass and read the name and dates on the marker. Barbara Conner, Oct. 14, 1941 – Feb. 7, 2014. The epitaph simply stated, "Avid Bowler and Silly Grandma."
"Is this your mom?" I asked softly. I don't think he had even realized I was there as he seemed shocked when I spoke. Looking up and speaking emotionally through the tears said, "Yes, I was having a very tough day and just had to come out here and be with her. I miss her so much!" I said, "So, she liked to bowl?" He started telling me all about her. She bowled semi-professionally and was a great cook, a hard worker who raised him by herself – always looking out for him and sacrificing so he could have a good life. After about five minutes of talking he seemed to be doing better. As he started to stand up from the ground, God clearly spoke to me and said, "I want you to give him a hug before you leave."
Now, I've been in funeral service for many years and have given and received many hugs, but there is just a little something uncomfortable about hugging a man I have never met in the middle of the cemetery. Then to add to my hesitation, I glanced down and noticed that all 10 of his toenails were painted a bright blue, as were his fingernails. But God was telling me urgently "You give this man a hug!"
I needed to go, so as he dusted the dirt and grass off his hands I said "I have to go now, would it be ok if I gave you a hug?" He looked up at me with a sort of surprise and replied, "You don't know how much that would mean to me!" So, I stepped up and gave this stranger a big, strong hug and told him I hoped his day would get better.
The crying started again and through his tears he said, "God bless you! I can't tell you how much I needed that hug. I haven't had anyone hug me since my mom died!" In my mind I quickly did the math – a year and a half since someone had hugged this man! As I walked away I heard the Lord gently whisper, "I told you he needed a hug."
When was the last time you were hugged? When was the last time you gave someone a hug?
Photo Credit: Will Oliver / Barcroft Media